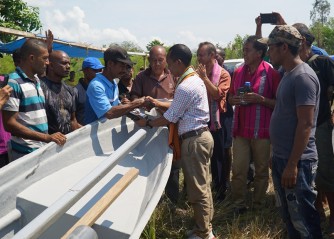 Minsietriu Agrikultura no Peskas mós entrega ró hamutk 2 unidades inklui mos ho makina ró nian fo ba peskadór sira iha postu administrativu Fatuberliu area tasi ibun.
Programa entrega ró ho ekipamentus ne'e tama iha orsamentu jerál 2019 nian, ita sosa ekipementus hirak ne'e fahe ba komunidade sira katak ne'e hanesan komprimisiu guvernu antertior nian ne duni ita kumpri duni ohin loron  husi Minísteriu fahe ekipamentus  hirak ne'e ba sira, liu husi fasilidade sira ne'e komunidade iha suku clacuc no fatucahi ne'e bele hadia sira ekonomia loron-loron nian. Salienta Diretór Jerál Peskas  Acaçio Guterres depoisde koilleta ikan  iha fatin refere.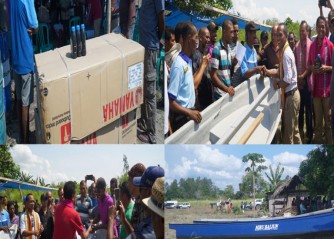 Xefe Gabinete Ministru, Edio Mariano Soares informa ba maluk joven no  grupu sira ne'ebé mak ohin husu menísteriu  atu oferese fasilidade hanesan ró,  ne'e   hanesan responsabilidade bo'ot ida ne'ebé maka tula hela ba ita -boot sira- nia kabás katak sasan sira ne'e  iha ita- boot sira nian responsabilidade tomak ne'e tau hela ba ita- boot sira nia kabás labele to tia ba grupu depois tan de'it buat ki'ik oan ida fahe malu to sasan sira ne'e mos sai lakon tiha hotu ida ne'e mak ita lakohi.
Guvernu prontu atu apoiu neduni iha programa  ida ne'ebe mak tulun komunidade sira maibé ita iha buat hirak ne'e mós tenki koopera ho  tekniku sira iha kampu bele kontaktu iha nivel munisípiu iha diretór munisípiu sira iha buat ruma ita- boot sira labele rezolve ita -boot sir a bele koordena ho ami nia tékniku sir a bele fó solusaun ba ita- boot sira tanba ne'e osan ne'ebe mak sosa ró sira ne'e mai husi osan povu nian,  osan mina ninian oínsa mak fasilita fali guvernu oferese ba  ne'e bele nakfila fali ba osan hodi sustenta fali ba ita -boot sira nia moris lor-loron nian. (E'J)