Lautém- ajensia Hivos entrega tanke kolleta udan been ba komunidade liu-liu ba grupu agrikultor oinsa atu asegura udan been iha tempu bailoron naruk, iha aldea Raumoco suku Daudere.
 Raul Delarosa Program Manager ajensia Hivos , Tersa (17/4/18) iha aldea Raumoco postu admintrativu Lautem esplika katak, impaktu mundasa klimatika durante ne'e, povu iha aldea Raumoco susar atu hetan be'e ba aihoris ne'ebe mak sira kuda neduni Hivos iha hanoin ida kria tanke rezerva be'e atu nune'e agrikultor sira bele uja bee rega sira nia aihoris iha tempu naruk bailoron.
Programa ne'e hetan apoiu orsamentu ho total 500 mil Euro husi Uniaun Europia liu husi GIZ, programa ne'e hanesan Adapatasaun Energia mudansa klimatika ba nasaun 14 iha Pasifiku inklui Timor leste. Implementasaun Projeitu ne'e iha suku ne'e   aldea sanolu resin rua   iha pasto Administartivu Lautem.
Benifisiariu husi projeitu ida ne'e agrikultor uma kain lima nunu ita dezenvolve sira oinsa para koilleta udan been no agrikultor sira uja teknolojia foun ne'ebe iha ligasaun ho adaptasaun ba mudansa klimatika ne'ebe durante ne'e atiji ona 50% neduni ami kontinu atividades ne'e iha kampu atu nune'e bele kompleta 100%.
Durasaun ba projeitu ne'e fulan 28 maibe ami husi ba doadores atu extende tan projeitu aumenta fulan 6 to iha fulan marsu 2019 atu be;e hetan benifisariu agrikultor husi projeitu refere bele atinji too uma kain 500. Iha projeitu ne'e mos sira apoiu ekipamentus agrikultura ba grupu agrikultor sira hanesan Aisuak, Enchada inklui katana.
Involvementu joven iha area refere seidauk masimu maibe ami sei motiva joven barak atu involve iha projeitu ida ne'e para aprende uja teknolojia foun   oinsa mak bele reduz impaktu mudansa klimatika iha area rurais.
Iha fatin hanesan, Jeferino Dos Santos Sequira , Administrador Munisipiu Lautem hakarak agradese ba ajensia Hivos no Uniaun Europia liu husi GIZ fo apoiu tanke koilleta udan
ben ba agrikultor sira iha aldea Raumoco tnab sira primeiraves hetan ajuda husi Ministeriu Agrikultura no Peskas nomos ONG nasional no Intenasional sira ne'ebe ami kontenti neduni grupu hira ne'ebe mak involve ne'e bele servisu diak liu tan.
Iha munisipiu ida ne'e Hivos entrega tanke koilleta udan been laos primeiraves maibe ne badal rua ona tanba primeiru sira entrahga iha parte Luro nian no agora iha Raumoco ne'ebe ami orgullhu los ba apoiu hirak ne'e neduni neduni hau hakarak hameno ba agrikultor sira katak tenki aju apoiu hirak ne'e ho kuidadu atu une'e uja ba tempu naruk.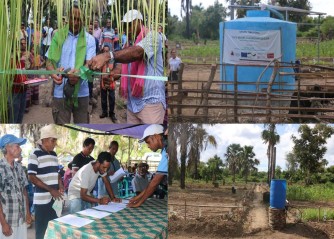 Tanke koilleta udan ben ne'e bele apoiu duni agrikultor sira ne'e mak kuda aihoris hanesan, kuda modo, kangkun rai maran, batar, aidila, pateka no seluk tan atu nune'e sira bele hetan rezultadu produsaun ne'ebe diak no sira bele faan rezultadu refere hodi sustenta ekonomia familia nian.
Delegasaun Uniaun Europea Simao Ligreend fo parabens ba grupu agrikulto hamuk ne'ebe mak mai husi suku Daudere Ailefa, Nasuloi Makaludo, Raumoco, Afabubu no Atelari   ne'ebe mak bele hetan apoiu tanke koilleta udan been ne'e ne'ebe bele rezerza be'e hodi rega ba sira nia aihoris.
Iha fulan neen liu ba iha outobru tinan kotuk projeitu IA4RA ho agenjia   Uniaun Europea GIZ entrega tanke lima atu fornese udan been ba grupu hamutuk lima iha postu administrativu Luro, ami hare   ita bo'ot sira iha inisiativa duni atu kuda aihoris. Mudansa klimatika sei hamosu risku ba be neduni   fo impaktu ba seguransa alimentar.
Bazia Hidrografika Raumoco sai hanesan prioridade ajenda husi Uniaun Europea, parseiru Dezenvolvimentu sira nia kontinuasaun iha Bazia Hidrografika reseita husi Uniaun Europea nia hanoin atu proteze komunidade no ita bo'ot sira nia paizazen husi kontinuasaun potensial husi mudansa klimatika. Infelismente impaktu balun ita labele prevene maibe ita bele serbisu ho ita   nia forsa no kapasidade atu adapta risku ne'ebe lori husi mudansa klimatika.
Xefe grupo Nautetu, Jose Da Costa realsa katak, Ami nia grupo maka naran nautetu husi aldeia jefaleu suku afa bubu postu administrativu luro, ami hakarak involve iha atividade ne'e tanba programa ne'e tuir ami nia hare modelu foun neduni ami hakrak halo mudansa ba ami nia produsaun liu-liu iha agrikultura nian tanba hare iha pratika iha kampu ne'e diak tebes neduni ami hakrak koko atu implementa iha ami nia suku.
Hare ba grupu ne'ebe mak implementa ona ne'e iha rezultadu ne'ebe mak diak ne'ebe mak mos hakarak atu aprende oinsa rezerva be'e itha tempu mudansa klimatika nune'e baiolron naruk ami iha be'e atu bele uha ba ami nia iahoris.husi ami nia grupu hetan ona juda fini hanesan batar, kangkun rai maran, pateka no seluk tan no mai foin komesa koko atu kuda.
Iha gurupu nia laran membru hatuk nain 10 durante ne'e   ami kuda modo ho iahoris seluk ho tradisional deit maibe agora dadaun ami hetan apoiu huis Hivos ami hakarak kuda aihoris sira ho teknolijia faoun. Rez,Rozer Lopes