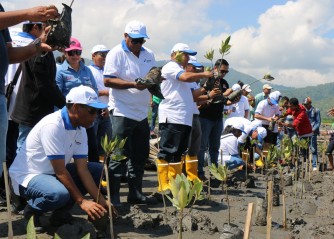 Dili- Ministériu Agrikultura no peskas liu husi Diresaun Jeral Floresta kuda tan ai parapa total  230 ai oan  iha area Metinaro  atu bele proteje ikan, ahu ruin no bele sai bareira no defeza wainhira anin no tasi boot ne'ebe maka iha area kosteira  Metinaro  antes to ba komunidade sira.
Atividades kuda ai-parapa ne'e ofisialmente kuda husi husi Ministro Agrikultura e Peskas (MAP) Estanislau Aleixo da Silva, Vice Ministro MAP Deolindo da Silva, Dekanu Universidade Nasional Timor Lorosa'e (UNTL) Mario Viegas Tilman,  estudante  UNTL, UNITAL, ho  parseiru sira UNDP, kompañia Pertamina Internasional Indonesia Pantai  kelapa,  Heineken, no mos Cemill Group. Atividades ne'e hala'o iha loron Sexta (23/02) iha Posto Administrativu Metinaro Municipiu Dili.
Tuir Ministro Agrikultura no Peskas Estanislau Aleixo da Silva hateten katak, Ita tenki hare numeru Ai Parapa ne'e mos tenki kontrola, Diresaun Geral Floresta maka sai hanesan responsavel Governu nian ba ai horis refere.
Governu bele esforsu hotu-hotu maibe laiha koloborasun ho komunidade sira  mos sasan  sei la lao ba oin, tanba ne'e  husu ba komunidade no xefi grupu sira atu bele kontribui ba atividade ida ne'e.
Nia hatutan, atividade kuda ai parapa ne'e sai hanesan aprendijazem  ida ba estudante  Universitariu sira sai  hanesan kampu aprendijazem no esperiensia  ba estudante sira liu husi  servisu ne'ebe mak ita hala'o. Tamba ai parapa ne'e sai hanesan bareira ida wainhira ita hetan tasi boot no anin ne'ebe maka iha area kosteira area Metinaro ne'e .
 "Hau sei koalia ho Ministro Turismo atu bele hare no servisu hamutuk ho turismo ambiente ne'ebe ligadu mos ho ai parapa, atu nune'e bele deside hamutuk hodi hare ba ai parapa sira hanesan iha area Metinaro nian tanba ai parapa mos kuando moris hamutuk barak ne'e ita hare ba furak tebes nemak hau nia hanoin ita tenki mantein ida ne'e hodi hare nia vantazem ba ita nia rai ne'e iha korenti maritima ne'ebe lori ou hamos ita nia tasi.   "tenik Ministro MAP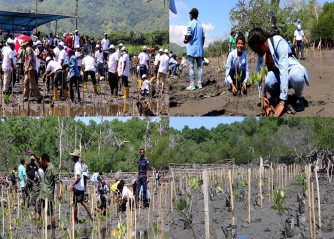 Iha fatin hanesan Diretor Nasional Floresta e Gestao de Bacias Hidrograficas,  Adalfredo do Rosario Ferreira esplika katak, atividade  kuda ai parapa ne'e hanesan  reflorestasaun fila fali  liu-liu ba iha ai parapa ne'ebe  iha parte kosteira nian ne'e.  Atividade kuda ai ne'e  ba dala lima ona iha Metinaro, tinan ida ne'e ita servisu  hamutuk ho UNDP projeitu rejilensia nian liu-liu ba iha area kosteira ita kuda ai  barak.
 " ita koko haluan tan kooperasaun entre  parseirus sira no kompania liu husi kuda ia parapa , iha mos aktividade responsabilidade ne'ebe  fo impaktu mos ba ambiente ne'ebe mak sira nia kompania ejiste ba, Diresaun nasional mos iha ona planu atu  koko kuda ai oan hamutuk ho kompania sira selu-seluk , iha eventu diak ida hanesan ne'e ita sei implementa diak liu tan.  Ita mos servisu hamutuk ho  autoridade lokal iha Posto Administrativo Metinaro ita iha kooperasaun diak tebes ho komunidade ho autoriedade lokal sira." Haktuir Diretor Adalfredo
Entretantu,  Decanu Assuntu Akademika Fakuldade Agrikultura,  Mario Viegas Tilman hateten katak, atividade ne'e nia rasik lori estudante husi UNTL hamutuk  ema 122 inklui feto no mane husi departementu  pescas ciensia marinha, departementu  ne'e foin mak loke iha tinan 1 ne'e,  entaun programa ida ne'e mos sai hanesan sira nia primeiru aktividades iha sira nia kareira de estudu iha fakuldade agrikultura departamentu pescas ciencia marinha ninian.
Nia mos hatutan,  lori estudante sira ne'e mai para fo apoiu ba atividade kuda ai parapa ne'ebe organiza husi UNDP ho Diresaun geral Floresta, ami UNTL iha kooperasaun nanis ona ho Ministériu da Agrikultura no Peskas ami iha mos Momerandum Of  Understanding (MoU) ohin ami koalia hamutuk ona oinsa mak atu bele renova fila fali momerandum ida ne'e.
Atividade kuda ai parapa ne'e total hamutuk 230  kuda rai hektare ida iha Metinaru.